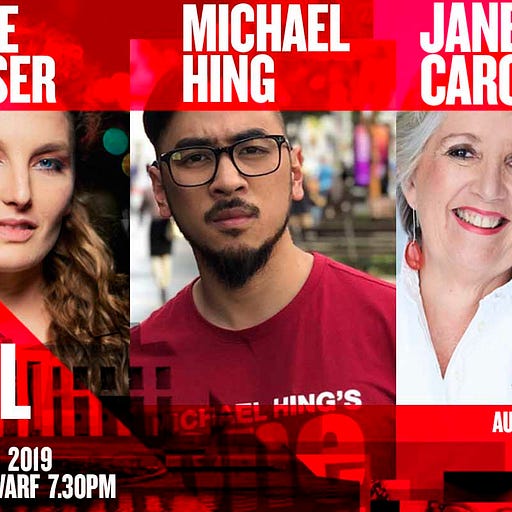 Apr 18, 2019 • 36M
Rugby: The Game They Play In Heaven*
PODLINKS: iTunes, Google Podcasts, PocketCasts
Ni hao Fearmongers!
It's the most magical time of every three years — just like a politician door knocking in your electorate, I bring you gifts that can't live up to their promise. It's a brand new A Rational Fear podcast! We're making them weekly throughout this Democracy Sausage Season for your aural comfort. Listen in your email browser or iTunes, Google Podcasts, PocketCasts:

1300 WTFIPM
Thanks to you, Australia is now equipped with the tools to navigate our parliamentary system. Yes, 1300 Who The F*** Is PM (1300983476) is up and working. Try it now. Co-incidentally Telstra is shutting down the actual talking clock. Soon 1300WTFIPM will be the only one of its kind in Australia.
PAID PROMOTION: DAN ILIC SUCKS PARTY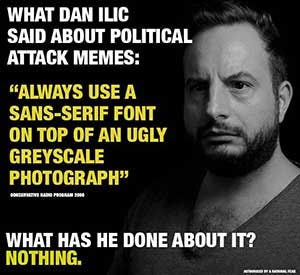 Upcoming A Rational Fear LIVE Show on

sale:
Have a gander at this line up. Alice Fraser (The Bugle) Michael Hing (One Asian Party) Jane Caro (Walkley Award winner) + Dan, Lewis and DJ Dylabolical.
7:30pm May 7th Giant Dwarf, Sydney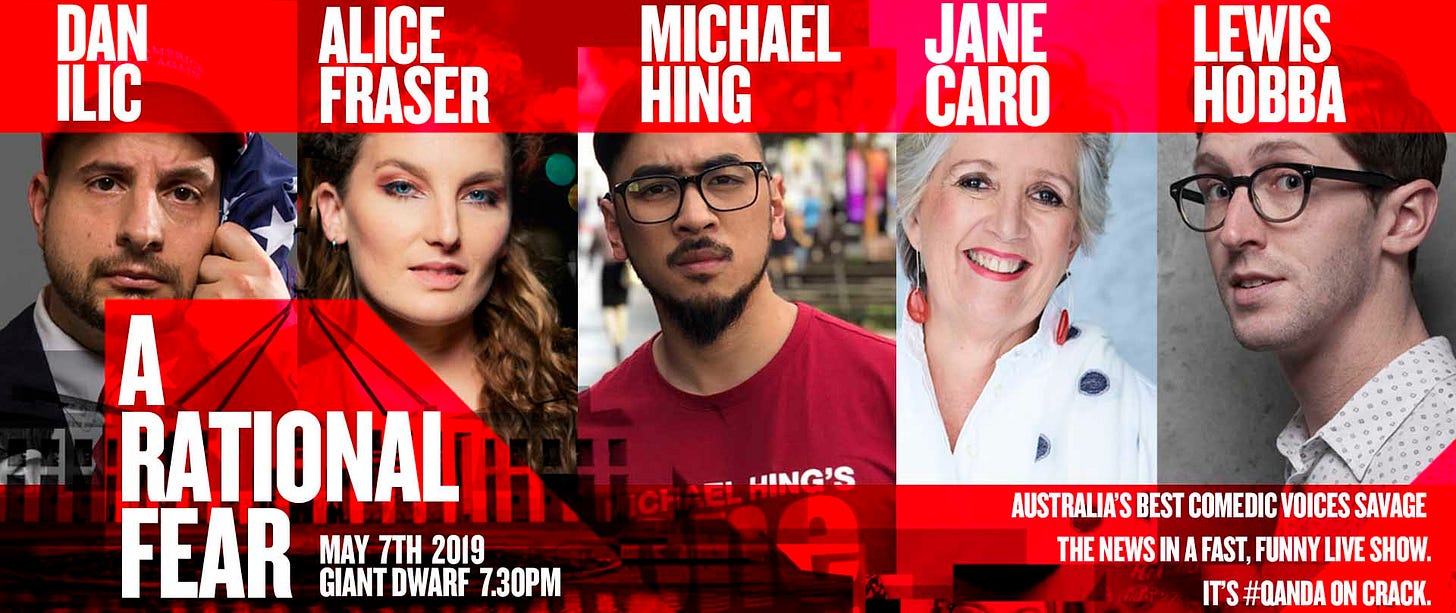 The Australian Podcast Awards
We're thrilled to be nominated for Best Comedy Podcast alongside a stacked category of legends including friend of the show and fellow fearmonger, Alice Fraser. Lewis and I will be there on the night. If we win I'll accept the award. If Tony Martin wins Lewis will accept the award as Tony's younger self.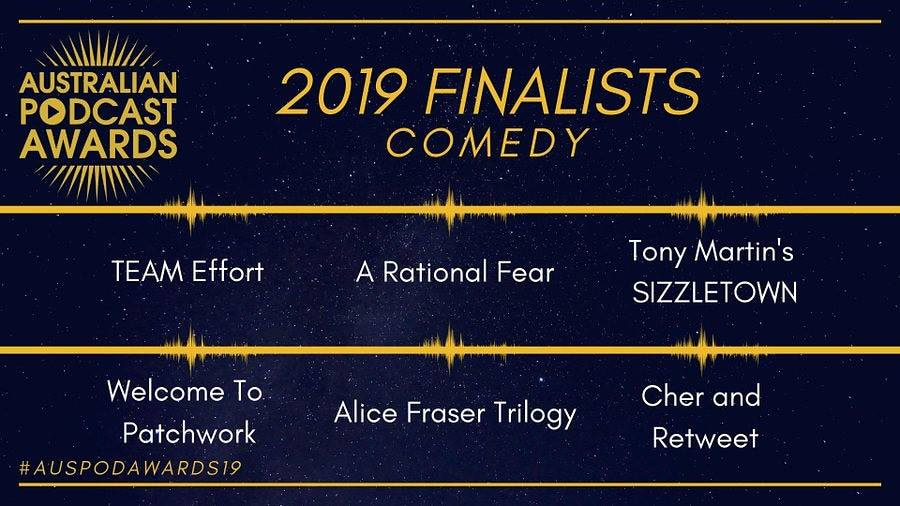 In U.S. news:
Attorney General Barr will release a 'lightly redacted' version of Mueller report. We've seen it — seems legit.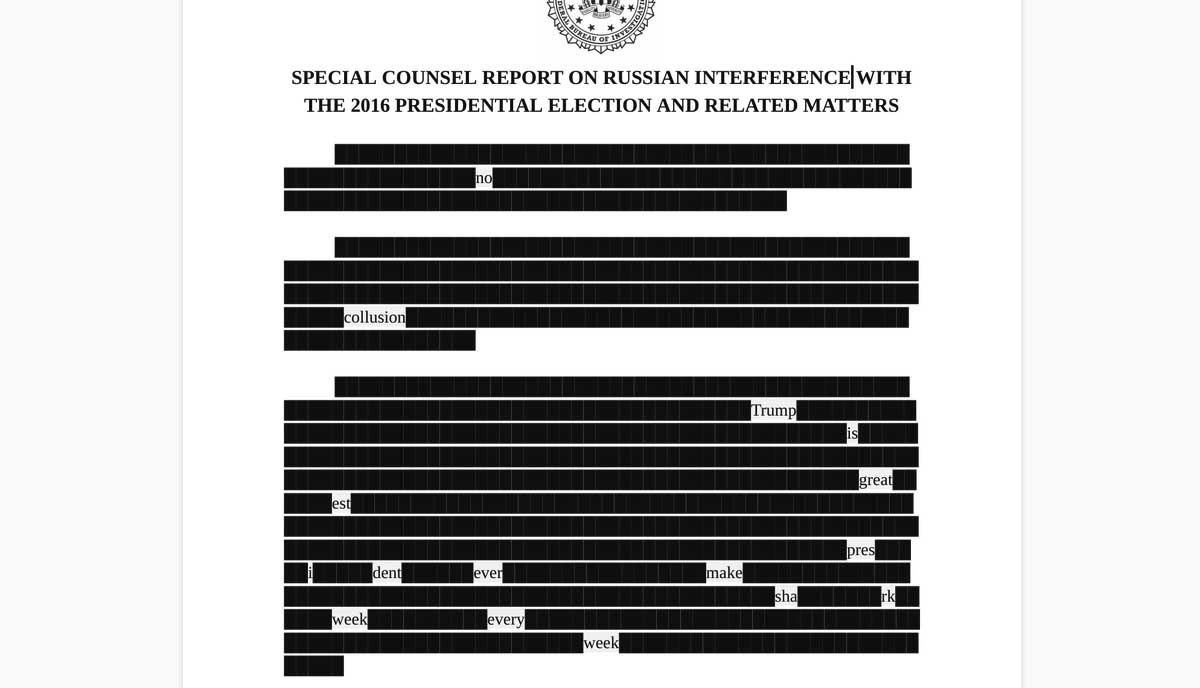 RADELAIDE — We're coming!
ARF will be coming to the Adelaide Cabaret Festival in June🎫 for a couple of shows. We know it's going to have me (Dan) and Lewis Hobba, as well as Tonightly ARIA winning musical duo, Bridie Connell and Wyatt Nixon-Lloyd. Who else would you like to see on stage? Let me know.
Thanks for reading —
And remember, there's always something dumb to be scared of.
Cheers
Danny Lick/Dan Ilic/Daniel Ilich
Shadowy Political Figure
PODCAST NOTES: Rugby: The Game They Play In Heaven* — #AusVotes2019 — 19th April 2019
This is the first of our weekly #AusPol2019 show heading into election season. On the pod this week Walkley-Jacoby Scholarship winner and Crikey Investigative Reporter Amber Schultz, Indigenous X's Luke Pearson, Triple J's Lewis Hobba
Pre-Show

Fearsome Fears

Intro Guests

Gaff's Campaigns

Luke Pearson's Wedding

Indigenous vote wooing p1

Tony Abbott's toilet block

Indigenous vote wooing p2

The Daily Telegraph's Greens S.M.U.G. index

The IPA's 15 point plan for Australia

The Top 5 Questions that the people of the internet have of Bill Shorten

Israel Folau

Melbourne International Comedy Festival Award

News Fighters Podcast Teaser

Farewell interstate plugs.

END