Discover more from A Rational Fear
Laughing in the face of fear since 2012. 🏆🏆🏆 Best Comedy Podcast 2020,2021 &2022 - Australian Podcast Awards Also home to Jan Fran Has Issues - 2022 Election Podcast 🗳️
Over 5,000 subscribers
We made a sitcom*
*for your ears!
Click to play on your favourite podcast player:




Hi Fearmongers —
Dan Ilic here with some exciting news…
WE MADE AN AUDIO SITCOM! — It's called Riot Act and is out today on Audible.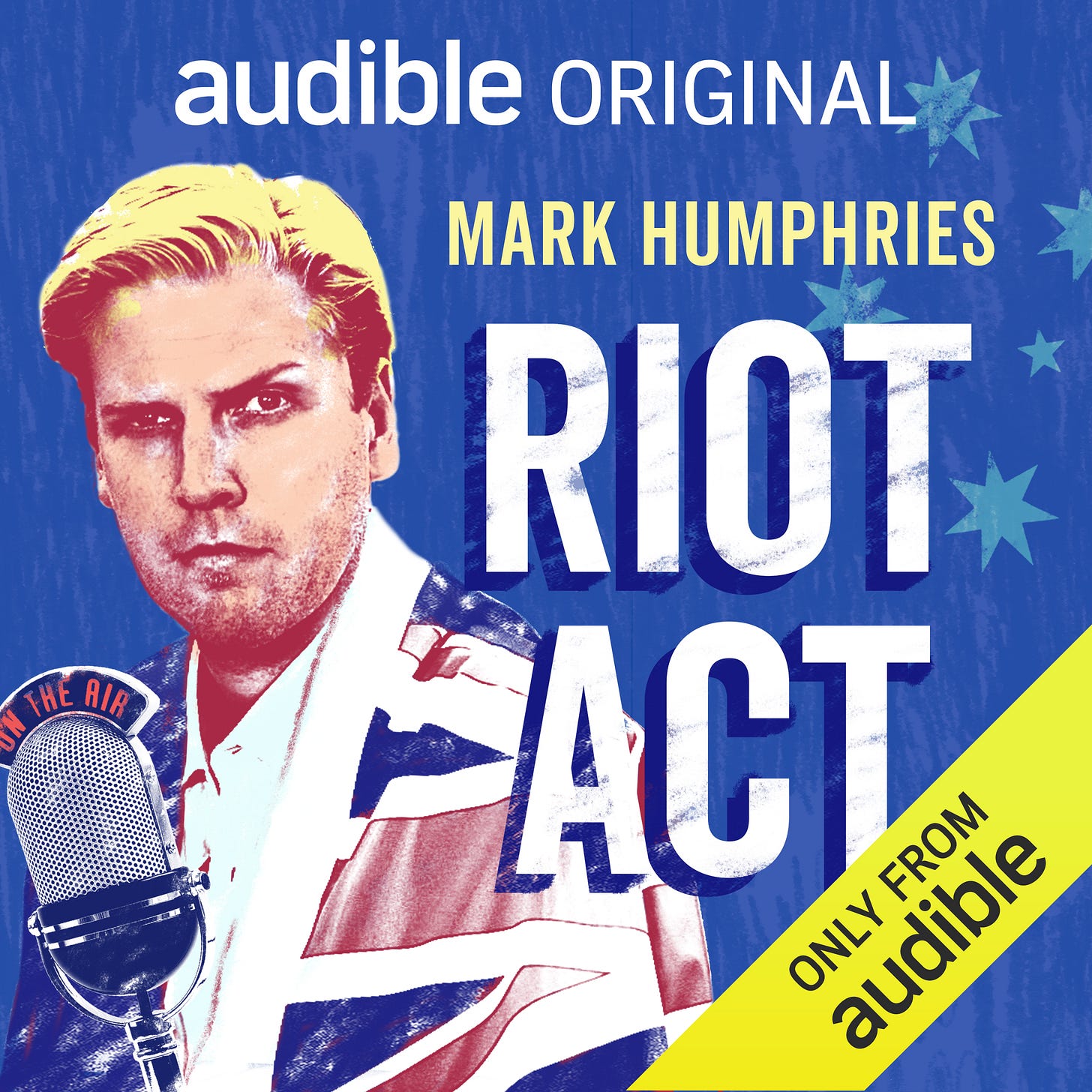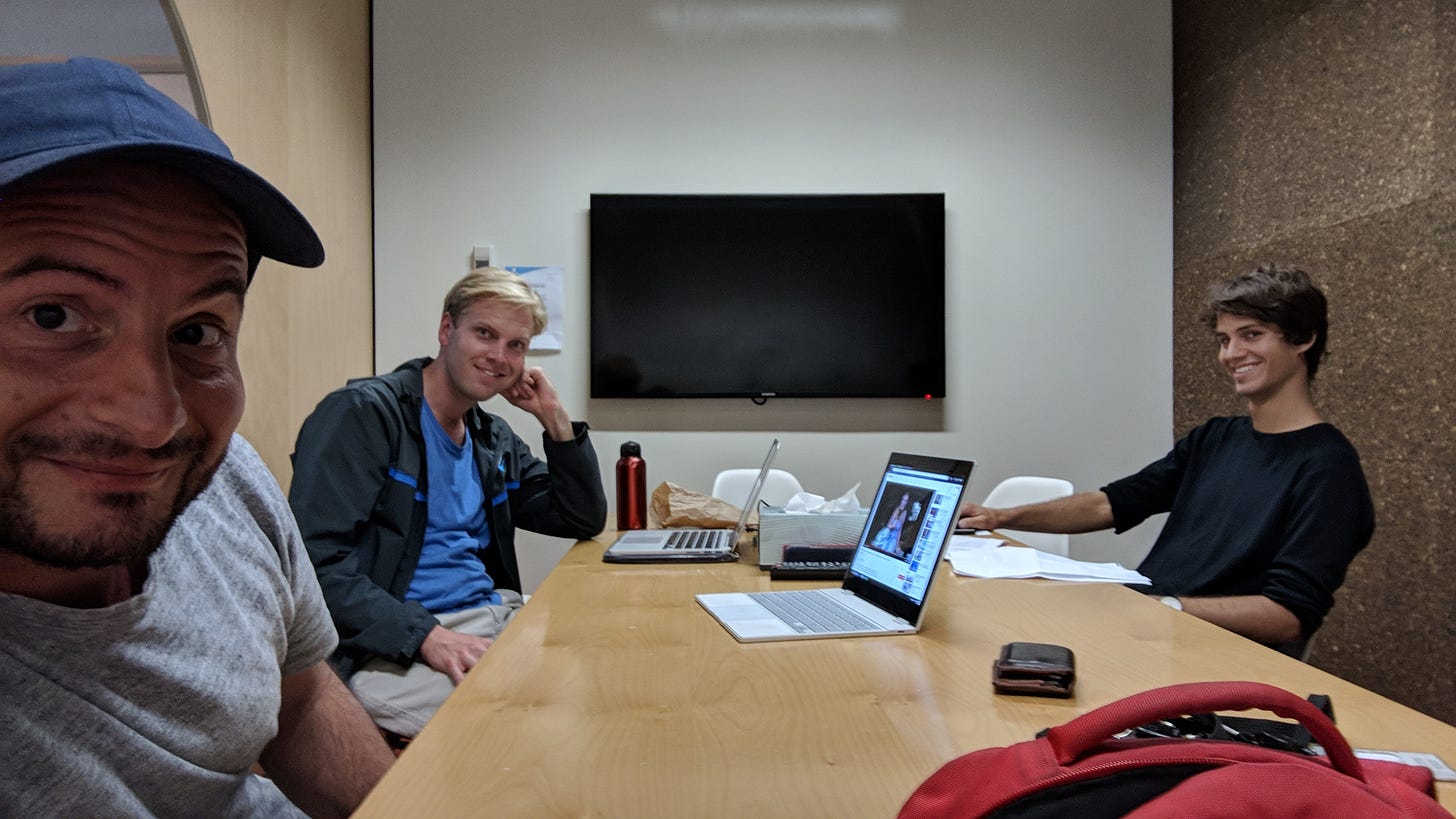 February 2018, first day of writing.
Over the last couple of years Mark Humphries, Evan Williams and I have been writing a sitcom set in the world of conservative talkback radio. It's not so much a workplace comedy but a story about ambition, and politics at the extremes. 

With the support of Audible Australia we made it into an 8-part sitcom for your ears (we only did the sound, the images are created by your own mind – it's cheaper that way), beating all the odds for making long-form narrative comedy in Australia.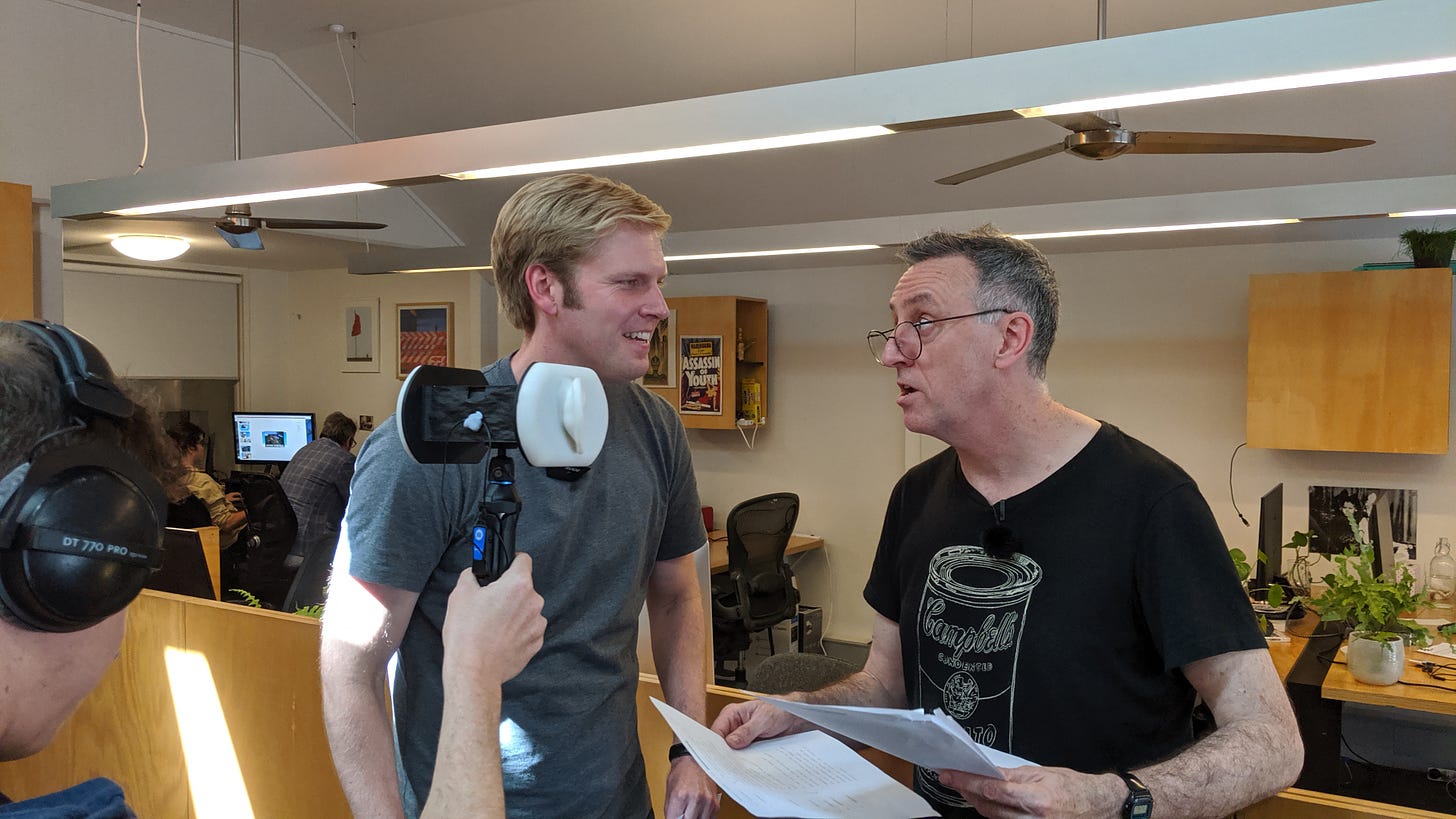 Mark Humphries and Tony Martin working their magic with the binaural recorder at Uncanny Valley.

And check out this list of incredible performers:
Liv Hewson
Tony Martin
Anjali Rao
Gretel Killeen
Rupert Degas
Heather Mitchell
Marc Fennell
Bridie Connel
Robbie McGregor
Veronica Milsom
Rosie Waterland
Wendy Harmer
Jordan Raskopoulos
Clarke Richards
Greta Lee Jackson
Tom Ballard
Patrick Gray
Ash Williams
Sandra Sully
Hugh Rimminton
Hamish Macdonald
Penny Greenhalgh
Lauren Bonner
Zach Mander
Frida Deguise
Anthony Salame
Indira Naidoo
Ben Fordham
Alison Piotrowski
Angela Lavoipierre
.. plus a gazillion more including Mark Humphries and myself.

We had a wonderful script editor in David K. Barnes (Wooden Overcoats) and an epic restructure and rewrite from Kacie Anning (The Other Guy). We made it with the incredible audio studio Uncanny Valley under the diligent supervision of Matt Perrot who built out the complex soundscape.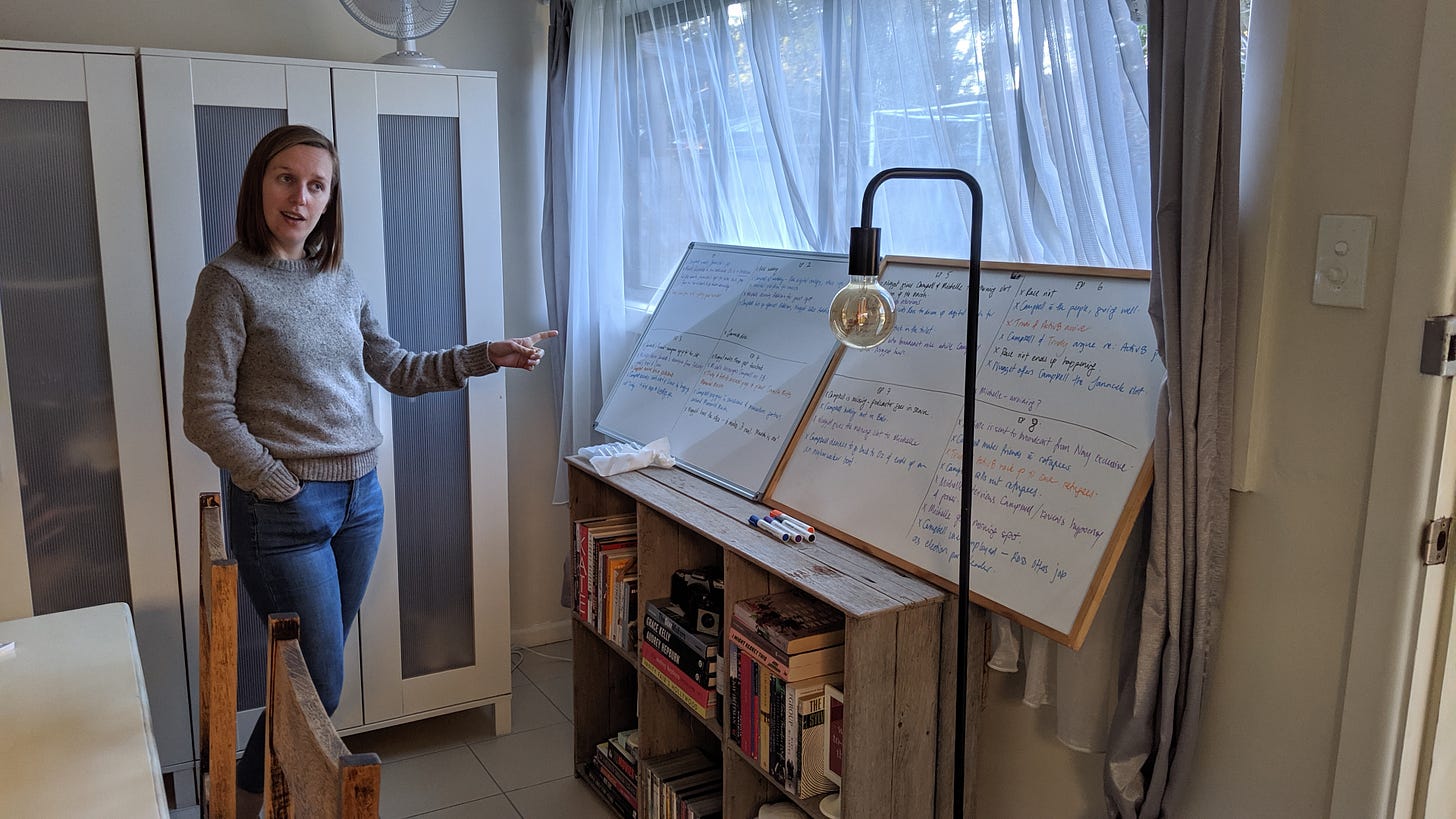 Kacie Anning restructuring our loopy narrative to make it rock solid.
So this podcast, Mark Humphries, Evan Williams and I had a chat about how and why we made Riot Act – with a call to Anjali Rao and Matt Perrot for some behind the scenes context.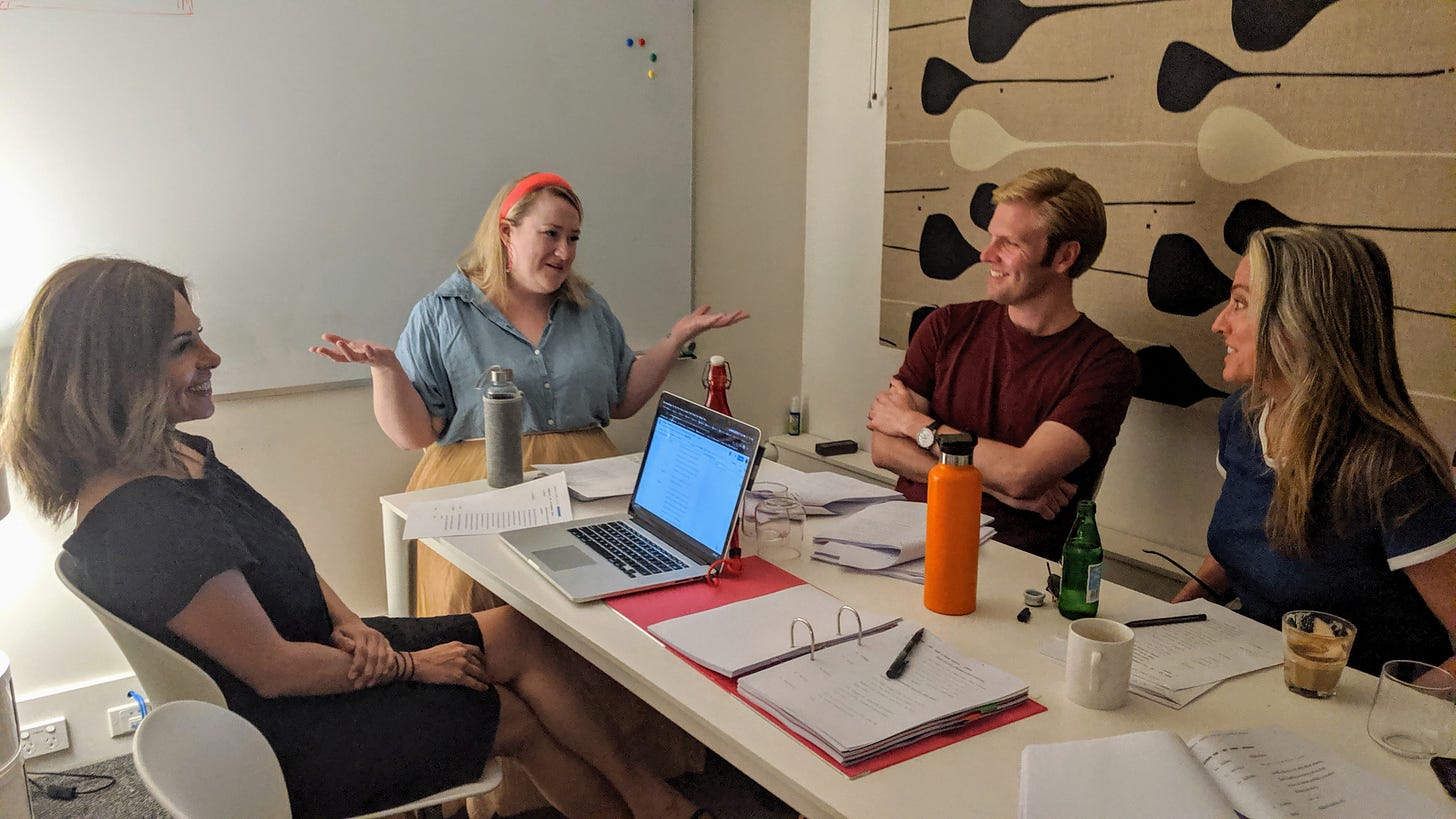 Notable raconteur Rosie Waterland regaling, Anjali Rao, Mark Humphries and Gretel Killeen.

It was a real thrill for us to make it, and a privilege to work with our heroes and friends to create something we're very proud of. 
You can listen to Riot Act here — https://www.audible.com.au/riot  It's free if you're an Audible subscriber — you can get a 30day free trial if you're not — Riot Act is only 186 minutes so, you know, plenty of time to listen to it a few times, and leave a scathing review.
Cheers
Dan