Ticket Giveaway: CANBERRA
What is Canberra?
G'day Fearmongers — Next Saturday A Rational Fear heads to our nation's capital, not to climb to the top of Canberra's most sacred round-a-bout, but to present the inaugural A Rational Fear Mid-Winter Bore!
The line up is delightfully good. Lewis Hobba, Mark Humphries, Shalailah Medhora, Mike Bowers, Dan Ilic (me) and DJ Dylabolical. The show is a fast and funny summary of the month in news, it's like #qanda on crack — although 'the bad show' seems like it's already on crack these days. 🎟️: http://bit.ly/CANBERRALOL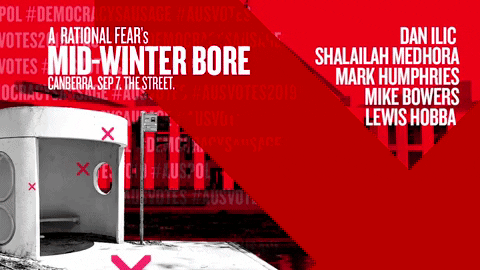 BUT Just like a treasurer a month out from an election, I'm giving away gifts! And by gifts I mean 5 double passes to people on this email list!
HOW TO WIN A DOUBLE PASS TO OUR CANBERRA SHOW:
Simply reply and answer this one question in 25 words or less: What is your full name and telephone number?
See you at the show —
Cheers
Dan xoxo