Discover more from A Rational Fear
Laughing in the face of fear since 2012. 🏆🏆🏆 Best Comedy Podcast 2020,2021 &2022 - Australian Podcast Awards Also home to Jan Fran Has Issues - 2022 Election Podcast 🗳️
Over 5,000 subscribers
The Vengabus on the O-Bahn : LIVE IN ADELAIDE
🎧 PODCAST GUESTS: Kyam Maher, Alice Fraser, Andrew Hansen, Gabbi Bolt, Lewis Hobba, Dan Ilic & Dylan Behan
G'day Fearmongers —
It was hot, it was fun, it was full of audio problems.
Nethertheless, here is the podcast of our Adelaide Fringe Festival Show.
The conversation we had with Kyam Maher, the South Australian Attorney General was super inspiring.
South Australia is in the process of passing legislation to make their own Indigenous Voice To Parliament. Kyam was one of the leaders bringing it to fruition.
Big thanks to the great Jacob Round (on the teppanyaki timeline) who took the dodgy audio and massaged and mixed this episode so it's very listenable.
ALSO on the podcast:
📡 Dan Ilic discovers one of our co-hosts has a branding problem.
🚔 Gabbi Bolt finds out just how long it takes to re-train as cop.
🎸 Andrew Hansen doesn't like his own name.
📉 Alice Fraser has beef with crypto bros.
📺 Dylan Behan mashes up the summer of news you missed.
👑 Lewis Hobba finds someone to perform at the King's Coronation.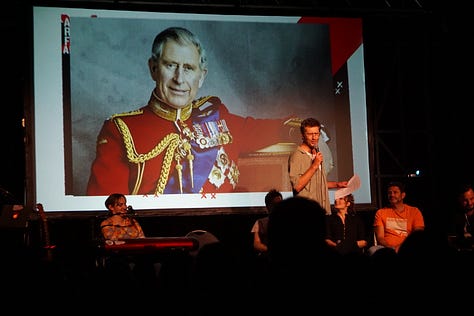 Brisbane show only has 80 seats left!
If you were planning on coming to our World Science Festival show in Brisbane, you better be quick, it'll sell out. There's only 80 seats left and with 3 weeks to go, run, don't walk to get your tickets.
Also if comedy panel shows about science are your thing; I'm also performing in a show called Night Of The Nerds, the night before A Rational Fear. It's like Spicks and Specs for geeks. You'll have a good time.


Thank so much for listening — and for coming out to our live shows. It's the best feeling to get out on stage again.
Dan Ilic
Head of Strategy
AUKUS
PODCAST LINKS:
If you enjoy our podcast, emails and important climate change conversations, chip in here like a good sovereign citizen. www.patreon.com/arationalfear
Thanks:
Big thanks to our Patreon Supporters, RODE Mics, Jacob Round, and our new shiny sponsor Australian Ethical