Izzy Mad?
Adelaide Cabaret Festival June 20 & 21
NEW PODCAST OUT! CLICK YOUR FAVOURITE APP BUTTON TO LISTEN:




Greetings Fearmongers —
Dan Ilic here, bringing a cozy gift for your ear holes – A Rational Fear recorded live on stage at the Adelaide Cabaret Festival. Now, in order for this political comedy podcast to qualify for a "Cabaret Festival" we coerced the two 2018 ARIA winners for best comedy, Bridie and Wyatt, to sing songs – one made up on the spot. Two cabaret fans at the show said that they were the best bits of the show, before demanding refunds. However, the Adelaide Advertiser, said the show was pretty great, and gave us four stars: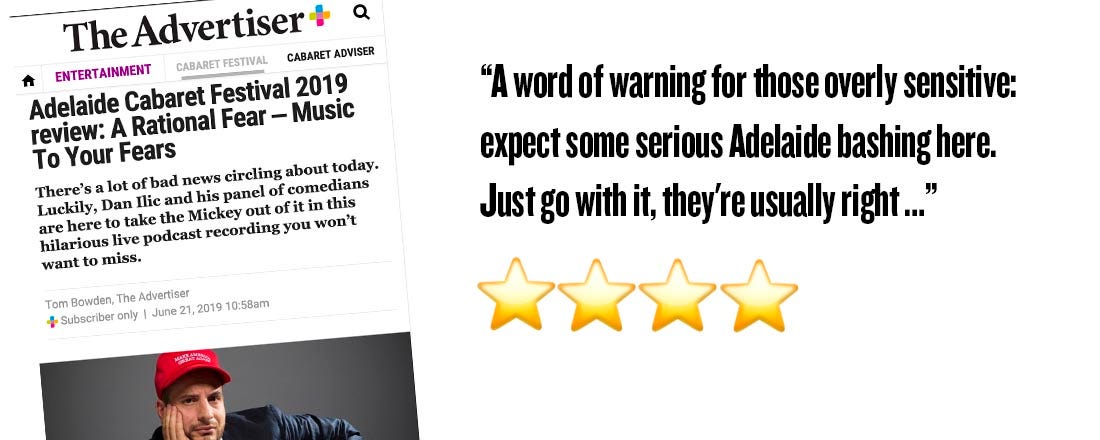 We have some other great bits too: We fix South Australia's drop in tourists, we chip in on Izzy Folau's Go Fund Me, and try to get our money back on the F-35 jet fighter.
Listen out for the excruciating audience reactions during Lewis Hobba's Logies rant, in which he bravely rips into Adelaide (in Adelaide). Also in this show Cal Wilson weaves a beautiful allegory about millennials growing horns. Jon Brooks argues that it's about time 'the left' had a rebrand. James McCann says Australia should stay a constitutional monarchy. Georgie Carol claims that germ warfare is grossly overrated. And journalist Andrew P. Street tells his story of seeking asylum in Adelaide.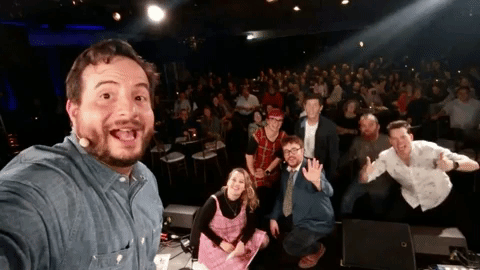 Show rundown:
00:00 — Pre Show.
01:24 — Opening.
02:15 — Introductions.
05:20 — Bridie and Wyatt Introduction.
07:00 — Sex Pest.
10:25 — I'm afraid of the Bees.
16:10 — Fearsome Fears: Where Is Everyone Adelaide?.
20:55 — Fearsome Fears: Israel Folau on Go Fund Me.
23:00 — Fearsome Fears: F-35 doesn't do much jetting or fighting.
30:14 — F-35 Promo.
31:50 — James McCann: God Damn The Queen.
38:34 — Georgie Carol: Germ Warfare, so what?
46:55 — Cal Wilson: Millennial Horns, the Wikipedia entry.
54:10 — Jon Brook: Time to rebrand The Left'.
1:03:00 — World Refugee Day: The political rhetoric need to change.
1:06:40 — Andrew P. Street: Economic Refugee.
1:09:35 — Lewis Hobba: The Logies need a new home.
1:19:40 — Bridie and Wyatt: The middle of a relationship.
1:23:15 — Credits.