Hungry Beast 10 Year Reunion.
It was a different time.



G'day Folks
Here's something a bit different in your podcast feed —
In September, A Rational Fear presented a self-indulgent, nostalgic, wankfest about ABC show that kick started my career and so many of my peers way back in 2009.
Hungry Beast.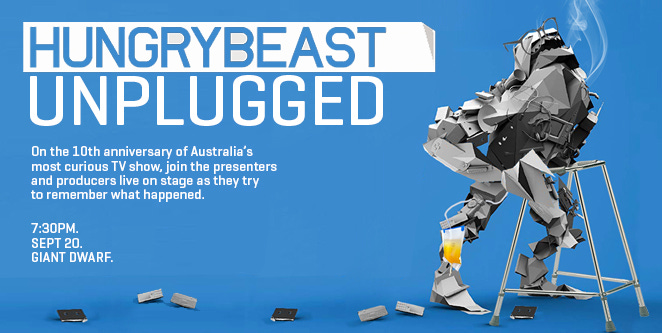 We had 11 of the original "beasts" and a handful of producers join us on stage, telling anecdotes about their time on the show. It's 80 minutes of laughs, ribbing, teasing, therapy and lessons learned from our time starting out in television.
Hungry Beast Ten Year Reunion Show.
Special thanks to CJZ for putting on post show drinks and donating to BlackDog in honour of Kieren Rickets, also to honour Kieren, profits from this show went to the Walkey Foundation.
#BOOMERADVICE Watch this classic:
While the whole internet is dissecting #OkBoomer and #BoomerAdvice this week — I thought I'd share with you one of the all time great sketches from Tonightly — It was performed by Bridie Connell and written by Ben Jenkins , who has his own excellent Substack newsletter. While the internet has only caught on to Boomer Bait, this sketch was pitched last year at Tonightly after the 1,000,000th story about how millennials were lazy and destroying the economy. (It's true we are)
Keep a look out for this new little thing we've made —
If you read MediaWeek you may have seen this little announcement about a project that Mark Humphries, Evan Williams and I have made for Audible.
It's true. It's finished, and we're really proud of it.
We hope you like it — or at least say you like it to our faces — but more than that I hope you enjoy all 3.5 hours of it — actually all we really need is you to give it five stars in the Audible player when it is released on December 2. And I will plug it here again.
Thoughts and prayers.
Dan.