SPECIAL: Kevin Rudd says meeting Murdoch is like meeting Gollum.
New monthly podcast! "Greatest Moral Podcast Of Our Generation".
NEW MONTHLY PODCAST: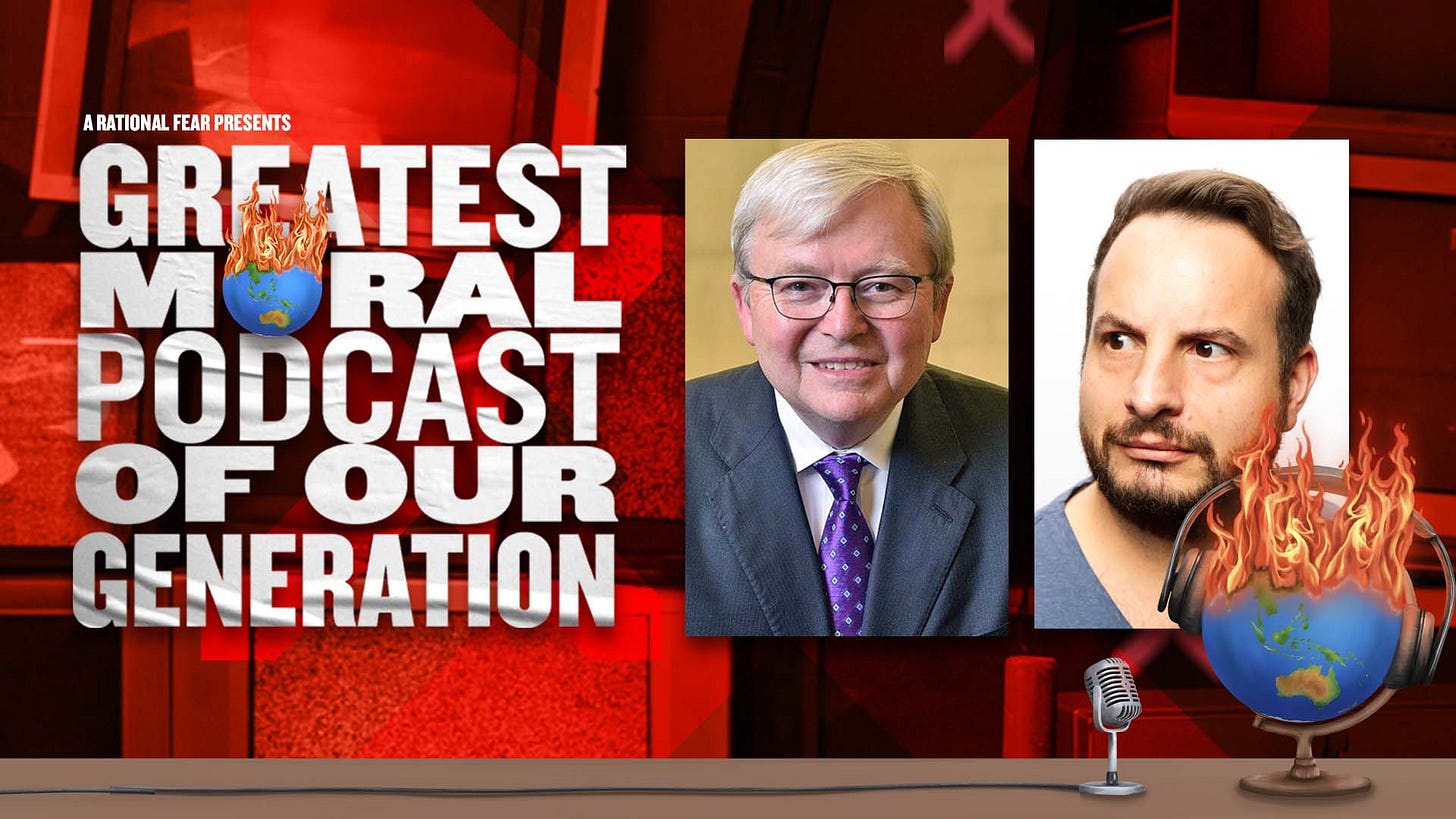 G'day Fearmongers —
Climate change scares me. Are we talking about it enough? I'm not, so I've started a new monthly podcast. It's long-form conversations with leaders in climate justice from around the world.

So… I'm thrilled to give you the first episode of the Greatest Moral Podcast Of Our Generation.
Up first is the bloke who coined the phrase "greatest moral problem of our generation", Kevin Rudd.
We're a couple of generations of PMs past that speech, and sadly the climate emergency still holds the title.
Fellow Bertha Fellow, Linh Do, and I do a wrap of the month's climate news, then we get to the interview.



Kevin and I speak about climate change policy, good, bad, future, past and present. We also go deep on Rupert Murdoch, NBN, and media regulation. Kevin also has some great advice for leaders who want to work in the climate space.
The Patreon version of this episode also has a conversation about off-shore detention and Kevin's Manus Island solution.
If you're a follower of #Auspol or just want to understand where we're at with climate policy in Australia, this is a super interesting interview.
Cheers,
Dan Ilic
Credits:
Host: Dan Ilic
Co-host: Linh Do
Post production: Jacob Round
Research: Kara Schlegl
Voice Over: Robbie McGregor
Artwork: Lauren Geaney
Patreon:

 ⬛⬛⬛⬛⬛⬛⬛⬜⬜⬜⬜ 65.2%
If you enjoy the podcast, chip in with Patreon. We're at about 65.2% of covering the costs of making the show each week. Every little bit helps. You get to watch the live recording of the show on Thursday nights at 8pm, and access our Discord community – it's kind of like a chat room where we bounce ideas around for the writing of the show throughout the week.
Another way to support A Rational Fear is to offset the carbon emissions from your car with Go Neutral. For every $90 sticker Go Neutral will buy 3.5 tonnes of carbon offsets which is about the average yearly emissions for a car, and $5 of that comes to us. I registered my car last week and bought a Go Neutral sticker. Get yours with this special A Rational Fear link here: http://bitly.com/GoNeutral
Thanks:
Big thanks to The Bertha Foundation, our Patreon Supporters and RODE Mics.