Dodo AIDS is coming back.
#ClimateWeekQLD
CLICK YOUR FAVOURITE PODCAST APP TO LISTEN:




Hello Dan Ilic here — and I bring you treats from The North. This episode of A Rational Fear has more laughs than Labor has seats in Queensland. It's 90 minutes of unadulterated climate crisis comedy from Queensland Climate Week. How's that for a sentence? Download it now before the AFP raids my sock draw.

Thanks to the Queensland Government for inviting us to perform at Climate Week . It's a brilliant action packed show that was 100% offset by carbon credits. Which is also how we got paid. So I guess, feel free to print this email out and burn it for fun. It's on us.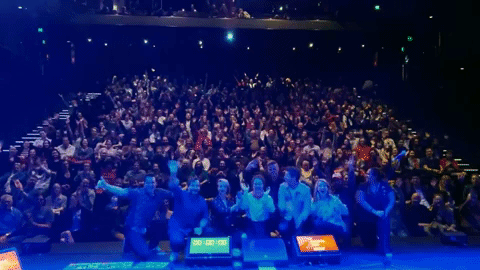 Bridie Connell and Wyatt Nixon-Lloyd play some hits. Tom Ballard tells us that it's all over and there's no hope left. The Queensland Government put a bid in for the 2038 Nuclear Winter Games. MICF Pinder Prize winner Steph Tisdell gives insects the tick of approval, and goes on the hunt for true love with an entomologist. Mel Buttle hopes that foodies will go extinct. Alan Jones has some thoughts on climate change.  Professor Hilary Bambrick scares us all to death with what the real health ramifications are for humans on a warming planet. Lewis Hobba thinks he has solutions to the climate crisis, but ends up just blaming Queenslanders for it all. Thanks to Dylan Behan who DJed impeccably, and did a last minute edit of some videos.

You may notice we are avoiding saying the name of an Indian mining company. Because we were told about 15minutes before going stage we couldn't say the name. Can you guess what the name was?
Enjoy
From a Dan I.
00:00    — Pre Show: AFP Warning.
01:25    — Start.
02:15    — Introductions.
05:33    — Bridie and Wyatt Introduction.
16:25    — Fearsome Fears: Freedom Gas.
21:15    — Fearsome Fears: Flygskam.
25:00    — Fearsome Fears: The internet will be underwater.
27:30    — Tom Ballard: We're all f***ed.
37:48    — Queensland's Bid for 2038 Nuclear Winter Games.
40:16    — Steph Tisdell: Care about insects.
47:45    — Mel Buttle: Foodies must die.
1:00:30— Alan Jones' Gloating.
1:03:35— Prof. Hilary Bambrick: Health and Climate
1:19:23— Lewis Hobba: Don't vote for the climate.
1:28:50— Queenslanders Apologise to Australia.
1:30:03— Bridie and Wyatt's Climate Love Song.
1:33:33— Credits.
This episode of A Rational Fear was performed and recorded on the country of Jagera shout-out to the The Turrbal. It's a delightful part of the world. And thanks to the team at the Brisbane Powerhouse, you were all so damn slick and professional.
Edited by Jacob Round.