Ass-led recovery. 💩
An invitation to my Sovereign Citizenship ceremony.
NEW PODCAST OUT NOW



What I think our podcast looks like:
What our podcast actually looks like:
POD EAT POD WORLD
🎧
I am Dan Ilic, I am a lawful man sending you a lawful email from the Principality of Bondi Beach. Joining Lewis and I this week is comedian, writer, performer, Vidya Rajan, and from the podcast Uncomfortable Conversations with Josh Szeps, Josh Szeps. We ask the tough questions: Are tall people are more susceptible to Covid-19? Is it worth becoming a sovereign citizen? And how we are dealing with Climate Grief?

We're also joined by Leanne Minshull from the Australia Institute. She explains to us the potential changes to one of the few pieces of Commonwealth environmental legislations, the Environmental Protection and Biodiversity Conservation Act. 



ASS-LED RECOVERY
💩
One of the most interesting yet unsurprising things to come out of the horrific news cycle this week was the complete lack of transparency around the National Covid-19 Coordination Commission.
Who would've thought that a group of business leaders from fossil fuels industries wouldn't be interested in sharing information on the work that they are doing on behalf of our parliament during this health crisis.  While we're not looking, this commission is pushing for things like a gas-led recovery. (As in greenhouse gas-led recovery'.) 
The taxpayer-funded commission is stacked with high-powered company directors and is chaired by the former Fortescue Metals chief, Nev Power, who stepped aside from his position as deputy chairman of gas company, Strike Energy, in May.

A series of freedom of information requests – including from the Guardian, environmental group 350 Australia, the Australia Institute, and journalist Hannah Ryan – have asked for documents that would likely have revealed how potential conflicts of interest were handled by the commission.

The requests have so far either been refused on practical grounds or heavily redacted by the Department of the Prime Minister and Cabinet.
Just a reminder — they were assembled to look after things while our parliament couldn't sit until August 4th. Now it looks like our parliament won't sit for at least another month due to the risks associated with Covid-19.
I guess everyone's been busy. If only there was some down time between April and now for Parliamentarians to work out how to install Zoom on their phones, so they could convene online.
It's crazy to think that this health crisis is making our climate crisis even worse — but it's 2020 — we shouldn't be amazed. Turns out the mining industry is no longer amazed either.
Read more from Christopher Naus here.
https://www.theguardian.com/australia-news/2020/jul/30/australian-pms-department-refuses-to-release-covid-19-commission-documents
⬛⬛⬛⬛⬛⬛⬛⬛⬛⬛⬛⬛⬜⬜⬜⬜⬜⬜⬜⬜⬜⬜⬜⬜⬜ 49%
It costs a bit of money to make each episode of A Rational Fear — so far we're at about 49% of the costs of running it. If we get to 100% I'll be able to start paying Lewis some money, or put it towards our beanie baby collection. If you enjoy our podcast, funny emails and important climate change conversations chip in here like a good sovereign citizen.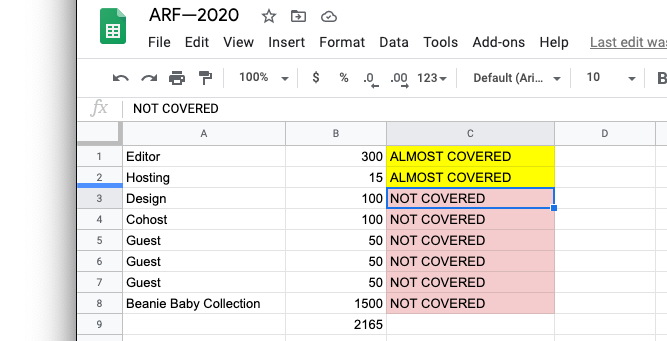 ONE LAST THING
📼
I did a guesty on 730 with Mark Humphries, friend of the show:
...and if you want to see the other of the story (we recommend viewing while wearing headphones or locked in a sound-proof room):
If you got this far, I'm astonished. You've obviously got what it takes.
Thank you.
Cheers,
Dan Ilic III